Outdoor rentals for wedding venues are perfect to achieve a rustic, garden, or country experience. But these rental companies are not only limited to weddings and other events, they can also help you with your staging business. With hundreds of outdoor rental companies in Toronto, it's easier to get overwhelmed than to choose one. We are here to make things more comfortable, so we have rounded up 10 of the best outdoor rentals in Toronto and the nearby areas.
1. VintageBash
Want to have a breathtaking garden view for your wedding or upcoming event? VintageBash has got you covered. With their cutting-edge rental service, you can surely hear pleasant compliments from your guests. They offer a la carte packages for both indoor and outdoor rentals but also offer a more comprehensive one if you want a completely stress-free event. Catering from fresh flower arrangements, backdrops, arch flowers and balloons, candle bars – name it! They might have everything you are looking for. The custom rental packages they offer start off at $2750.00 CAD. While for a la carte option, you can choose a few products you need. Browse through their website to see the list of prices.
2. Luxe Modern Rentals
Bring luxury to your upcoming event! Whether it's a wedding, corporate, or social event, you and your guests will surely be impressed with the amazing furniture rental this company offers! Both offering indoor and outdoor rentals for all kinds of occasions, they have been bringing joy to clients for 4o years! From grand weddings to small trade events, they have your back. This event rental company also offers design for their clients. With not so many companies offering this, they sure are at the top of the game. They have provided service for events involving A-list personalities so you're sure to expect a high-end indoor and outdoor rental experience. Check out their website to request a quotation!
3. Divine Furniture Rental
Experience a glimpse of rustic fantasy with Divine Furniture Rental! At this rental company, cutting-edge quality and excellent customer experience are what they strive to offer. Providing a wide array of furniture rental selections in varying colors and sizes, you can choose from elegant indoor rentals for the office, booth accessories for company fairs, to outdoor rentals such as picnic tables for weddings and other events. The rental period begins at the start date and finish date in accordance with your contract. And if you have additional furniture to rent, the rates they offer can be determined by the percentage of your original order. Their product range is constantly expanding so be sure to connect to get the latest updates!
4. Sitra Furniture Rentals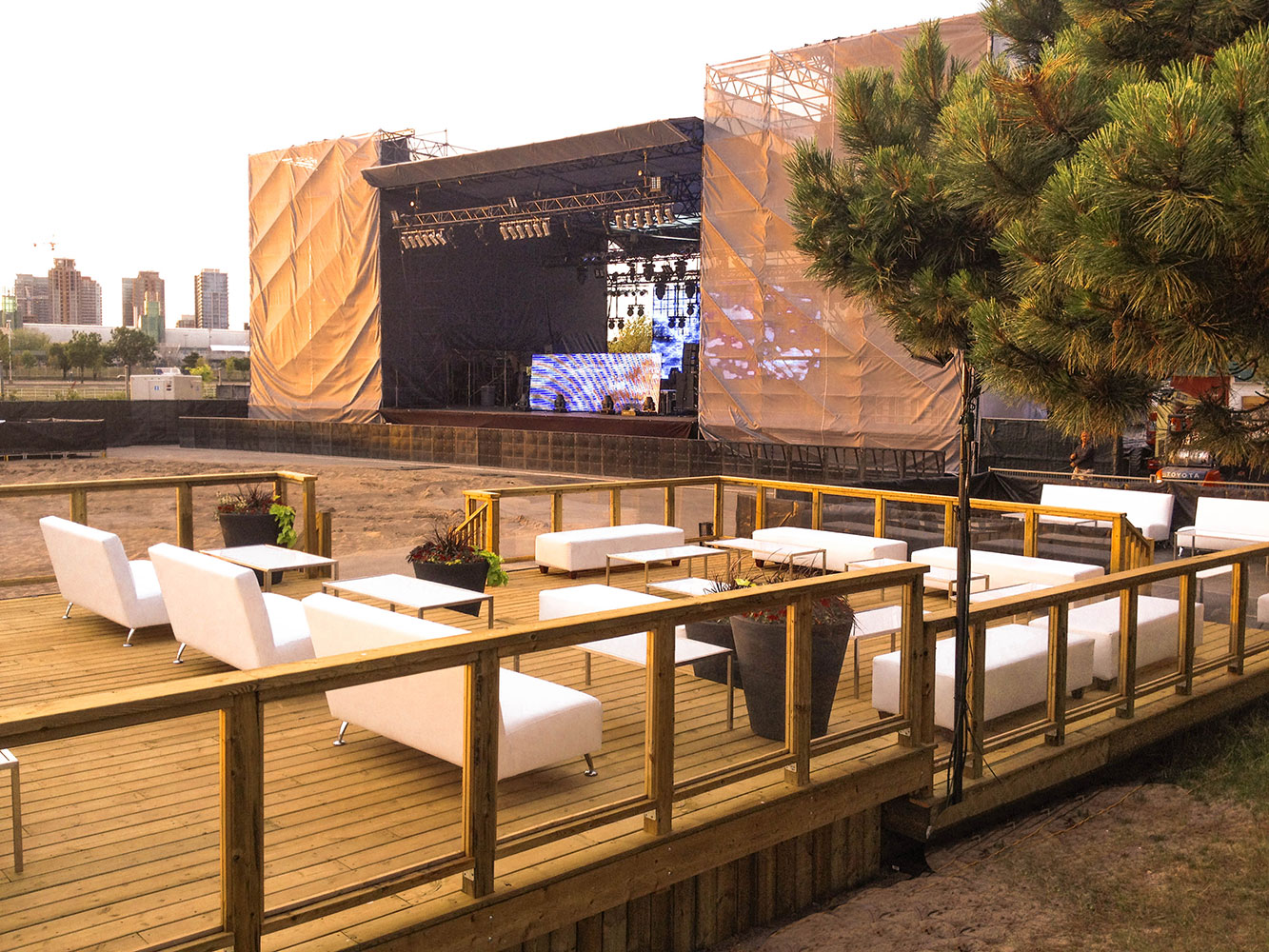 Boring patio? Spruce it up with Sitra Furniture Rentals! Hold your guests in a more chic and sophisticated way by having them as one of your outdoor rentals service providers. This company specializes in contemporary elegance, offering sleek and modern furniture for its customers. Their large variety of product collections can cover anything you can imagine – from intimated affairs to extravagant functions to corporate fairs. Aside from furniture rentals, this full-service company also offers event planning services for any kind of occasion. For more information about their services, click their website below and ask for a quotation.
5. Higgins Event Rentals
Outdoor rentals have never been so dreamy! Combining your fresh flower arrangements with Higgins Event Rentals can surely bring a dreamy country style to your event. Taking pride in its 30-year experience, this rental company does not only offer indoor and outdoor rentals but also puts customer satisfaction as their priority. As a result, they have been the go-to partner of many event planners in town! Choose a do-it-yourself package or a semi-custom one to have the flexibility are leaning for. With over a thousand product selections, we're confident that you can choose everything you need for your upcoming event. Click their website below to have a fast quotation from them!
6. Gervais Party and Tent Rental
Nothing beats an event with nature taking a part in it. Gervais Rentals will let you embrace the combined beauty of nature and modernity! Outdoor rentals like this company will surely make you and your guests swoon away. If you love stargazing and any outdoor, then you might want to consider having clearspan tents for your wedding reception. Carrying a selection of over 1,200 products, brides and planners on a budget have been happy in collaborating with them. Expect a quick and professional response to any of the queries you have as they treat clients with utmost importance. Ready to get started? Visit their website and contact them.
7. AllCargos Tent & Event Rentals Inc
Prepare to get lost in an alluring rabbit hole with All Cargos Tent and Event Rentals! Providing high-quality outdoor rentals for tents and chairs to ensure that you can enjoy your own version of the world. Enjoy the beauty of the natural lighting our sky brings, whether it's morning, late afternoon, or nighttime event. They specialize in indoor and outdoor rentals for weddings, backyard events, and trade shows. They even provide solutions for outdoor festivals! Truly delivering a commitment to satisfy their clients, they will assist you in hosting that event you have in mind. Ready to get it started? Contact them today to have an estimation!
8. Event Rental Group
Do you feel like having an Alice in Wonderland experience for your event? Event Rental Group can make it happen! Also offering events planning services, they have a structured process of creating events that will guarantee your satisfaction. From indoor to outdoor rentals, watch this team unfold the best event! Their seat rentals start at $ 2.25 CAD while tables start at $11.50. To complete your sophisticated events, they also offer rentals for dinnerware and flatware. For a more inclusive one, you can choose their table setting packages that start off at $30.00 CAD. Ready to get started? Visit their website today to learn more information!
9. Lux Furniture Rentals
Have an upcoming photoshoot catalog you want on your patio? Upgrade the look with Lux Furniture Rentals! This company is committed to helping you have success in your needs, be it for a house or condominium staging, corporate, or social affairs. This high-end furniture rental provides downright pricing for fees. VIP Membership Savings to CSP and RESA members as well. Their packages for outdoor rentals start off at $139.00 CAD. What a value for money, right? All the prices you can find on their website are 1-30 days of rentals, so rush on to their website now and browse through!
10. AS Special Events Party & Tent Rentals
A reception with stars lighting up the sky? AS Special Events can make it even more special. This full-service rental and events company will walk with you every step of the way – from concept to complete execution. They offer creative design, equipment, and everything in between down to the final touches. With creative event planners, designers, and decorators, sumptuous food catering, beautiful floral arrangements, and even limousine services! They will surely help you experience priceless moments. Visit their website now to know more!
website: www.asspecialevents.com