Small and exclusive weddings are in demand and surely have their own kind of magic. It doesn't matter if your wedding plans have changed because of the pandemic, you can still have a fairytale-like experience with the help of wedding florists around Mississauga. Just because micro weddings are the only option now, doesn't mean you are settling for less. In fact, you are actually having more room for other luxurious and memorable experiences!
With the downsizing of events, you can go all out in designing your wedding, indulge in a lavish honeymoon, or just simply save it! We have scouted wedding florists around Mississauga to help you turn your wedding dream into a reality. Read on our list to decide which one best suits you!
1. VintageBash
If you are looking for a one-stop-shop company, VintageBash is for you. Putting intricacy in your wedding floral arrangements, this team of wedding florists will surely create the most stunning arrangements you ever laid eyes on. You can choose from their beautiful pre-sets of hand-tied bouquets or have a customized one according to your style and personality. And since this company is full-service, they also offer services from food catering down to photography. Their bridal arrangement can be availed in a la carte that start off at $210.00 CAD. Keep the excitement going and browse through their website!
2. FloralBash
Every journey in love deserves floral arrangements that can echo for a lifetime. FloralBash's team of wedding florists has made it their mission to provide not just stunning arrangements, but also arrangements that translate your love story through florals. Your intimate wedding day will be even more romantic if created by them. Their breathtaking floral arrangements are not only for weddings, as you can also use them for other events. The arrangements they offer start off at $95.00 CAD. So rush on to their website now before they go fully booked!
3. Euro Flowers Mississauga
Weddings, regardless of their scale, will always be an important milestone in our lives. For this reason, every detail you infuse should be a piece of art. With Euro Flowers, you are guaranteed to have floral arrangements that are masterpieces. Not all wedding florists create designs the same way this team does. Taking pride in over 20 years of experience, it's no surprise that the styles they create always bring joy to everyone. Click their website below to have a quotation for your wedding day or any future event.
4. FIORI Oakville
Have you pinned a Pinterest post that you want for your wedding day? Fiori Oakville can definitely bring that to life! From vibrant colors to soft colored palettes, wedding florists from this shop can surely create it for you. They offer floral arrangements that will bring the most memorable experience, no wonder previous clients have been coming back and became regulars. With over 25 years of experience, they are committed to delivering an exquisite experience, especially on a wedding day. But they're not only limited to such ceremonies, as they also cater for other special events, big or small. Just fill up their bridal questionnaire to get you started!
5. Flower Fantasy
Flower arrangements are not just mere purchases, they are an experience that will bring lasting memories. Fill up your venue with fragrant and beautiful arrangements from Flower Fantasy! This shop has a team of wedding florists that will surely create arrangements fit for you and your partner's personalities! Whether it's a dreamy-toned design or a bold and spicy palette, they can surely put it on the table. Staying true to their brand, they will evidently bring you to fantasy land through these alluring miracles of nature. They offer arrangements that go below $50.00 CAD so stop by their website now before they're gone!
6. Flowers On Ten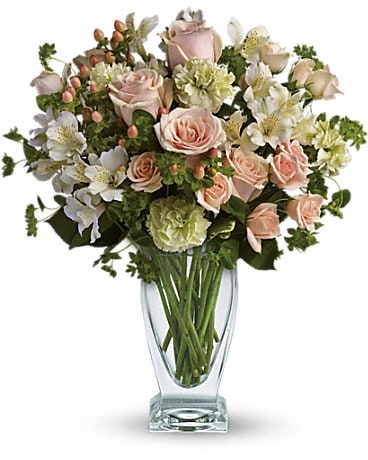 Spruce up your wedding reception with Flowers on Ten! Be it for your wedding ceremony, reception, or wedding party, they will undoubtedly create the bloom arrangements that will sweep you and your guests' feet. Offering a wide array of flowers perfect for centerpieces and decor, wedding florists from this shop can cater to any of your floral needs. Aside from weddings, they also provide designs that perfect for any kind of special day or occasion. The wedding flower arrangements they offer start off at $90.00 CAD. We know you want to see more. So check out their website now!
7. Lina Arango Floral Design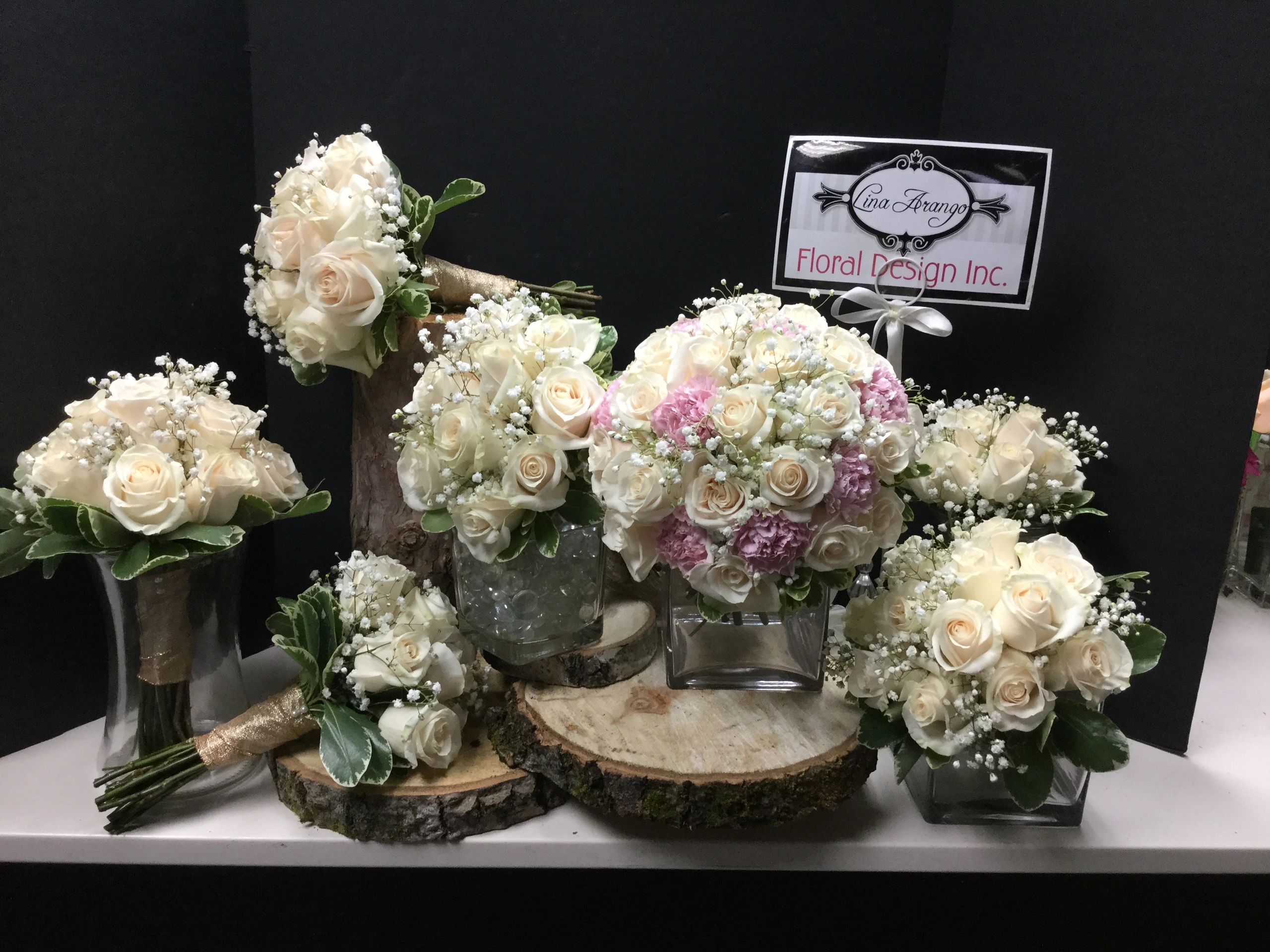 Floral arrangements are proven to brighten up any day. That's why your wedding day deserves the most luscious floral design that you can get. With the 25 years combined expertise of wedding florists from Lina Arango Floral Design, you're sure to expect a well-put style to make your special day unforgettable. Their bridal packages start off from only $699.00 CAD that includes all your entourage floral needs. But since most of the wedded couples to be are opting for micro weddings, you can choose from their list of selections or connect with them to have a custom quote. Click their website below to get it started.
8. Flower Creations

Believe it or not, weddings can pass by like a blur. So to make it memorable and lasting, wedding florists are here to help. Flower Creations is one of the best wedding florists in Mississauga that can help your big day to create beautiful nostalgia as years will pass. From the bridal bouquet to your wedding reception's centerpieces, this shop will provide beautiful arrangements for you. Offering a wide array of bloom options, you can choose from blooms in vivid colors to soft subtle toned. Their commitment to giving their clients a happy experience is truly evident in every celebration they cater to. Stop by their website today to learn more!
9. Gatto Flower Distributing Inc
Every special moment of our lives is worth the celebration. To sprinkle it with more magic, floral arrangements are one of the key factors to having an eternal memory. Gatto Flower Distributing Inc. creates one of the most beautiful flower arrangements for weddings that any girl has been dreaming of. Their wedding florists make sure to give couples an experience of a lifetime with their stress-free service and strong attention to detail. They have been in the industry since 1980, so it's no surprise customers are coming back for future events. Curious about their previous events? Visit their website to see more.
10. Fair Trade Floral
The mandatory downsizing of events has made room for couples to save money but if you want more, you can opt for wholesale flowers. Fair Trade Floral is one of the wholesale wedding florists in Mississauga that can help you with your thrift goals. But we know what you're thinking, you might be wondering if you'll be the one to arrange the flowers, well, you don't! The owner will happily help you on your most special day. With their amazing customer service and high-quality flowers, you will surely experience the dream you've been imagining. Do wholesale flowers sound right for you? Visit their website to see their flower selections!